May 25, 2018
Posted by:

admin

Categories:

Black Feminism, Blog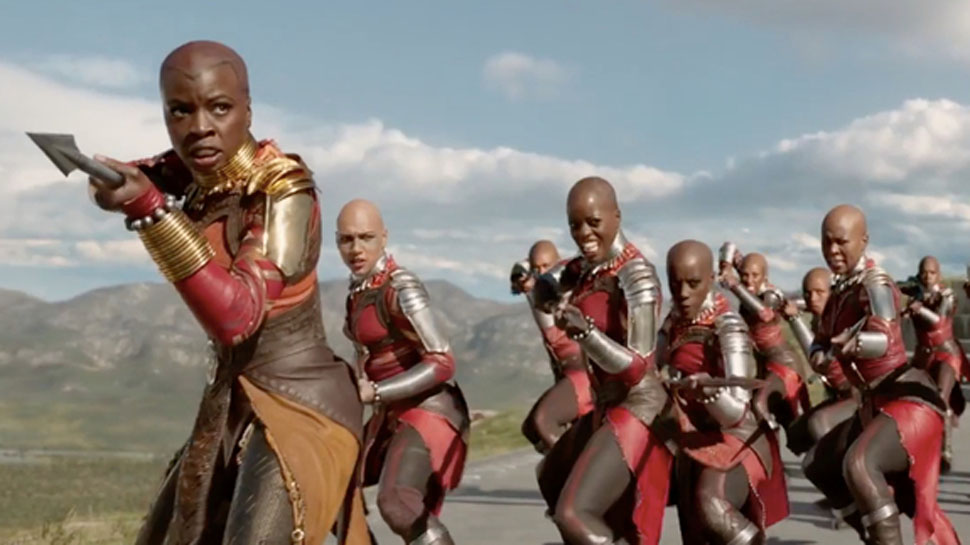 Nothing boosts a woman's morale at the movies than to see BadAss women owning their power and kicking butt as they complete their mission, which is usually to save the world—because that's what we do.
However, until recently, such BadAss women all have been white, in the movies and in real life—whether "Lean In"-type CEOs like Sheryl Sanberg——-or Angelina Jolie as Hollywood's imagined Laura Croft, Uma Thurman in Kill Bill or Susan Sarandon and Geena Davis as Thelma and Louise.
The original Charlie's Angels was about sweet-looking women who could hold their own at a time when women were still viewed as fragile and feminism was still in its infancy.  But in truth, it was all about the hair, and Farrah Fawcett influenced at least two generations with her fluffy 'do.
The reboot of Charlie's Angel's had one noticeable change to the team of kickass white women; they  added Lucy Liu.  And yet, it was still a story about white women.
Even the reboot of Laura Croft with Alicia Vikander doesn't take us any place different, though Gal Gadot as the new Wonder Woman is slightly suggestive of diversity and difference because of her Israeli heritage.
No doubt about it, BadAss Black women (BABW) are few and far between in the movies and in real life. For example, in the real corporate business world, Xerox had one Black Woman CEO, Ursula Burns. Her departure created a void in real life leaving the largest 500 S&P Companies (Fortune 500) in the United States with absolutely no Black women and only 15% (white) women overall.
And in the movies, before  there was Wakanda's all-female security force, there was just one newly released movie, Proud Mary that starred our favorite actress Taraji Henson as a BadAss Black Woman.
We would have to go back 44 years to find any Badass Black women movie predecessors. Back then, there was Pam Grier starring as Foxy Brown in a series of movies and also as Coffy. 
Then there was the martial arts expert Tamara Jones as  Kombissiri Cleopatra Jones. When the black movies (Blaxploitation or not) disappeared, so did the image of strong BadAss Black women.
In 2018, there are so few models in film, on TV, and in real life, for young Black girls to look to and imagine themselves as powerful and fierce rather than reduced to stereotypes of video vixens, "babymama," or angry Black women. For a brief moment, we had former First Lady Michelle Obama who gave us an emotional and political respite from the negative images. But the belief that Black women are not worthy of positive affirmation impacted how FLOTUS Michelle Obama was treated in the press initially. She too was accused of being an "angry black woman."
This dearth of positive role models for black girls leads me back to the fictional country of  Wakanda in the Black Panther film.  For the first time in a major movie blockbuster, we have a queen mother (Angela Bassett); a nerdy genius sister (Letitia Wright); Lupita Nyong'o as the Black Panther's love interest with her own agenda to spy, rescue women from persecution, and kick a few butts along the way; and finally the Amazon-like Dora Milaje (Adored Ones) royal guards in the forms of Danai  Gurira as Okoye, Florence Kasumba as Ayo, Sydelle Noel as Xoliswa and even Killmonger's partner-in-crime, Tilda Johnson aka Nightshade, is also a BadAss—though short-lived. She is sacrificed by Killmonger for the greater good of his cause.
What I loved about the Dora Milaje, the royal guards, is was that they were completely bald. And it never looked so good!
No weaves, no concerns about hair texture or flyaway strands getting in your face as they kicked, punched and speared their way to save the day. And they never gave up— even when they were being pummeled and killed. BadAss Black Women till the end.
And by the way, they break the colorism barrier that has plagued the Black community by privileging light-skinned women over their darker sisters! Yes! Long hair— out!  Light-skinned—out! And I'm not hating on my light-skinned sisters because they too are victims of white supremacy thinking and how it has shaped our beliefs so profoundly that beauty is anyone who is close to white.  Think I'm lying? Google "beauty" and see how the coding only offers up images of white women, and one Asian woman.  Google "black beauty" and the coding brings up images of horses. Just recently, one or two images of black women have shown up. But what does it mean when we are placed alongside hundreds of images of black horses?  There are no horses coded in "beauty."  Just whiteness.  [Update–the white men who code Google's algorithms have become more culturally sensitive, but not much].
My most favorite scene is when Okoye, leader of the Dora Milaje confronts her love. He asks "you would kill your love?" And she, unflinching and holding a spear in her hand ready to impale him, answers "to protect Wakanda? Yes!"  Game over.
Brother man looks around at the havoc these KickAss Black Women guards have inflicted on his men and drops his weapon. There is no indication that their love has diminished, it's just that there was a boundary he dared not cross. Her duty to protect the throne and her love of country outweighed her love of an individual man. We have much to learn from her and the other women.
This is the second crisis that Danai Gurira's  character Okoye's encounters. Prior to this scene, she is implored to rebel; she refuses because her commitment as a member of the Dora Milaje is to duty and protecting the throne and "whoever sits on it" is what matters most. Now that's loyalty.
What emerges from the Marvel-imagined universe of Wakanda is an array of Black Women of every ilk. They are mother, sister, lover, protector, warrior, and so it is in real life.
Black Women in America, and I would even say globally, have received a bad rap and lots of bad press.  People see us either as Jerry Springer-like drama queens,
ghetto-fab baby mommas, video vixens working our behinds, sex toys to be used or discarded, or angry Black Women.
There is no room in white America's psyche (and even among our own Black folk) for variation in Black Women, and if we don't fit, we still get put in a box!
If there is a moral in the Black Panther film and its Afro-futuristic country of Wakanda, it is that Black women are diverse, powerful, brilliant, loyal, fierce, passionate, and we have every right to demand Respect.
N.B. And, if we don't receive it, maybe we just need to kick a little ass to get the process moving in the right direction.
( I am a Grinnell College alumna and  former faculty member, and was there when Danai Gurira's father taught chemistry  at Grinnell.  Small world).