October 31, 2019
Posted by:

Irma McClaurin

Categories:

Black Feminism, Black Lives Matter, Blog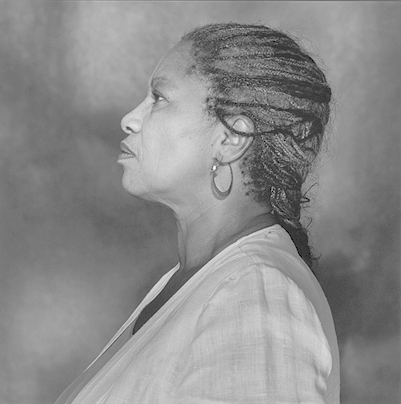 where to buy cytotec no prescription May the blessings of the Seven African Powers be with you always.
http://solent-art.co.uk/paintings/the-black-house-mudeford/ —-Denise Alvarado
An Invocation to the African Orishas
Yemayá, Mother of the Seven Seas, guide her over the waters of our salted tears.
Oshun, Goddess of Love, wrap her in your warm embrace so that she will know she was loved.
Chàngó, Orisha of Fire, Power, Thunder, & Sensuality walk with her for she was a kindred soul as her writings were filled with the spirit of your fire, power, thunder and sensuality.
May Sister Toni Morrison rest in freedom and walk among the ancestors with grace.
Ashé (And so it is) forever.
Our "rememory" of you, Toni Morrison is strong.
How do you say goodbye to greatness? How can we possibly capture in a few words or sentences the genius of a woman who used the magic and power of words, images, metaphors, and the music of her mind to establish her own literary tradition? I am humbled by even being asked to try. But here goes.
Whatever anyone in America writes in the future, it will have to be measured against Toni Morrison's contributions as a writer and truth teller. Such is the weight of legacies.
My first encounter with Morrison was teaching a course on Black Women's literature. Using her novels,The Bluest Eye (1970) and Sula (1973), I attempted to teach students how Morrison had given us characters who defied the stereotypes that traditional literature had carved out for Black people.
But in the late 1970s, I was one of only three Black graduate students in the English department at the University of Massachusetts Amherst, in search of my own literary voice. Morrison's work gave me strength. She used to say, "If there's a book that you want to read, but it hasn't been written yet, then you must write it." And I did.
What attracted me to reading and teaching Morrison was the multiplicity and complexity of the Black women characters who peopled her books. Men seemed peripheral and white people simply were non-existent or just in the background. Why? Because she said:
I write for black women. We are not addressing the men, as some white female writers do. We are not attacking each other, as both black and white men do. Black women writers look at things in an unforgiving/loving way. They are writing to repossess, re-name, re-own. (1986 Interview with Sandi Rusell)
In Morrison's fictional world, her complex Black characters struggled to be themselves against the backdrop of the historic remnants of slavery and oppression; they grappled with the unseen weight of generational trauma called forth by what she termed "rememory."
Some succumbed to the madness of internalized oppression (The Bluest Eye), while others (Sula) found their own ways to make sense in a crazy world. And, then there were those haunted by ghosts who took physical form (Beloved, 1987) snatched from the rememory of slavery in the past and drawn into the present as real, sometimes destructive, forces.
Her characters were universal in the ups and downs of their humanity, sans (without) white people as central figures.
Once in an interview, Morrison challenged a question posed to her about when she would come to terms with the real world and write about white people. Her response was unapologetic and unequivocal in denying the power of whiteness to always position itself at the center and her personal and literary refusal to succumb.
"…I have had reviews in the past that have accused me of not writing about white people. As though our [Black] lives have no meaning and no depth without the white gaze. And I have spent my entire writing life trying to make sure that the white gaze was not the dominant one in any of my books."
Such graciousness in a writer who upheld the integrity and humanity of Black lives will truly be missed.
Morrison made Black Lives Matter with every word she selected, in how she chose to punctuate her sentences, with the characters she created or drew forth from our history, and in every unapologetic interview she gave.
Her journey to the ancestors leaves a void felt by those of us who used to patiently wait for her next novel, her reflective essays, and her eloquent interviews. We know genius takes time. There will be no more literary gifts from the living Toni Morrison.
But perhaps, in time, we will be blessed with a literary discovery and learn she left us an unfinished manuscript, or pieces of a memoir, or another children's book, on which she was working.
Or perhaps, reality check, we must resign ourselves to reading and re-reading the powerful legacy of work she left between the pages of her novels and essays.
America needs Morrison's work and her wisdom more than ever today as non-white people are under attack. We need to center ourselves and our needs as Black people against the rising tide of global anti-blackness, racism, white supremacy and xenophobia sweeping this country, and the world.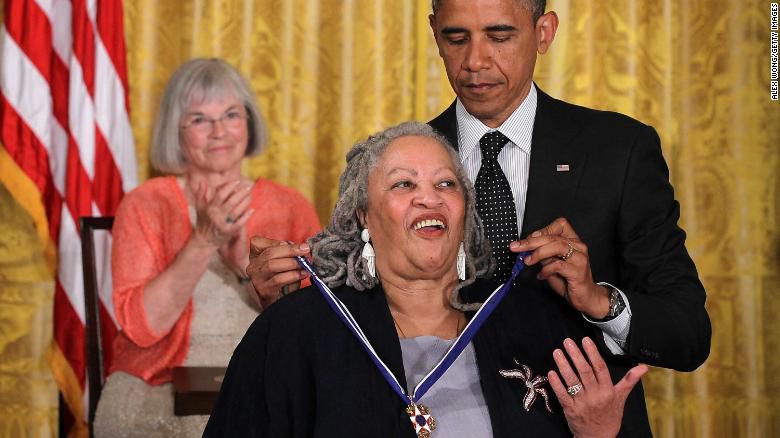 And Morrison—a Pulitzer prize winner for Beloved in 1988, the Nobel Prize in 1995, considered the "…most prestigious awards given for intellectual achievement in the world," and the Presidential Medal of Freedom on 2012 bestowed by Barack Obama, the first Black president in the history of the United States—is our literary orisha, the truthsayer of Black humanity and ultimately the humanity of all people.
Morrison was very clear that that she wrote for Black people and fought against being "consumed by or concerned by the white gaze." But she hoped that "everyone," "of any race, any gender, any country," read her books.
And white people need Morrison too, now more than ever, as they grapple with their own rememory and legacy of racism and white supremacy inherited and recently resurrected to new heights. There is no place for white innocence, white fragility, or white historical amnesia when reading Toni Morrison.
And, she righteously understood the nature of racism in America. For her, the matter was not hers or Black peoples to resolve. As she explains:
If you can only be tall because somebody's on their knees, then you have a serious problem. And my feeling is that white people have a very, very serious problem. And they should start thinking about what they can do about it. Take me out of it."
Enough said. We will miss the word and wisdom of Toni Morrison, born February 18, 1931 as Chloe Ardelia Wofford, Nobel laureate, and now Ancestor, August 5, 2019.
Her beauty remains with us.
"At some point in life the world's beauty becomes enough. You don't need to photograph, paint, or even remember it. It is enough.
Toni Morrison's beauty, in her literature and in her life, was/is more than enough.
Yemayá, Oshun, Chàngó, watch over Sister Morrison, and guide her safely home to walk with you in freedom.
Ashé.
Irma McClaurin, Culture & Education Editor, Originally published Aug 8, 2019, Insight News
(C)2019 McClaurin Solutions
Learn More about Toni Morrison:
https://www.britannica.com/biography/Toni-Morrison
http://the-eye.eu/public/Books/Occult_Library/African%20Traditional%20Religion/The_Seven_African_Power.pdf
https://www.nytimes.com/2019/08/06/books/beloved-morrison-song-of-solomon-bluest-eye.html
Learn More about Mami Wata:
http://mamiwata.com/mamichild/mamichild.html