May 25, 2018
Posted by:

Irma McClaurin

Categories:

Black Lives Matter, Blog
http://gregorydowling.com/61-worse-places/ These are trying times for Black activists, for feminists, for Black feminist activists–hell for anyone who has a modicum of awareness.  In this era of Black Lives Matter (#BlackLivesMatter), what is needed are safe spaces to express authentic feelings without consequences, and mentoring as a form of shelter–where folk can retreat to for solstice and sanctuary.
This was brought home to a me a few years ago when I commented on a  post in Anthropology Now. Written by a young black feminist activist, Donna Auston, who bravely had organized a "die-in" at the 2014  annual professional meeting of the American Anthropological Association.  Her goal was to draw public attention to the Black Lives Matter movement, and the deaths of unarmed black men that seem to be increasing with a ferocity not seen since the Jim Crow era of lynching.
For a few minutes, she had created the most powerful example of what another Black feminist womanist activist taught me was "political theater." instead of silence to protest the increased police violence against young black men, she orchestrated a "die in."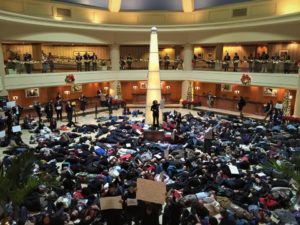 What "drama" — in the best sense of that word.
And all of this took place at a professional academic  conference attended by over 8,000 anthropologists of all ilks from around the world.  And, it occurred in the main hotel lobby.  After the event, Auston posted her thoughts in Anthropology Now about this public act of solidarity with the Black Lives Matter movement.
She began her post in the following way:
"I have never died before.
In the beginning of December, at the annual meeting of the American Anthropological Association in Washington, D.C., I made my way down to our hotel's main lobby with a few of my friends, to join hundreds of my colleagues for a die-in, a powerful, symbolic protest against the continuing epidemic of extrajudicial killings of black citizens by police and vigilantes.  We gathered a few minutes before the scheduled time, as instructions for how to begin arranging our standing bodies around the rotunda were whispered from ear to ear.  "If you are planning to die, please make your way into the center of the circle, those who prefer to watch on the outside."  People began to hold up signs hastily scribbled on poster board and plain old blank office paper: "Black Lives Matter", "Justice for All"—while one of the main organizers—a caramel-colored sister-scholar-organizer dressed in all black stood up on the pedestal that held up the tall, dangerously pointed objet d'art which marks the exact center of the lobby.  Her muted signal came before I felt quite prepared. With a calm, direct, downward gesture of the hand we were informed that our time had come.  Ready or not, it was time to die.
At exactly 12:28 P.M. we lay down on the immaculate marble floor in unison.  Immediately, I felt my throat close and the rush of tears that I fought to hold back.  "Dead women don't cry," I thought to myself, as I immediately became aware of my breath.  Almost against my will, it felt—for dead women don't breathe either—my lungs insisted on continuing to fill with air.  As my lungs expanded so forcefully, I shed more tears as I thought of the violence and brutality with which Daniel Pantaleo literally squeezed the life out of Eric Garner.  Garner, an asthmatic, was placed in an illegal chokehold and gradually robbed of air while he screamed repeatedly—over and over and over again—"I can't breathe."  Read Full Article
On the post, I left a brief comment; but it was the email I received from Donna that broke my heart, but also reinforced why taking a few minutes to comment can have impact.  She sent me this message:
buy provigil fast shipping
I am the author of the piece "Recalled to Life" on the die-in at the AAA conference this year.  …We haven't met before, but somehow I was just now able to see the wonderfully encouraging comment you left on the website under my article.  I wanted to reach out to you personally, because after what has been a truly challenging week on a number of fronts, your words brought a real smile to my face.  Thank you so much for the encouragement, for the support, and for the vote of confidence–it means a lot.  I hope that we are able to connect in person some time very soon.  It would truly be an honor.  Thank you for everything.
Below is my comment:
My one thought on "Recalled to Life: On the Meaning and Power of a Die-In" in Anthropology Now