February 27, 2018
Posted by:

admin

Category:

Blog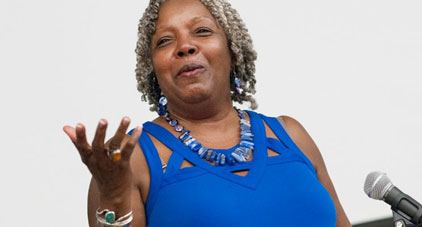 If you seek a dynamic speaker or workshop presenter for Women's History month or anytime, I'm available. I am an activist anthropologist, writer, seasoned leader, and educator. Passion and a deep commitment to social justice inform my actions as a speaker and workshop facilitator on current issues.
I've appeared on the Sandra Bookman show "Here and Now" as well as NPR. While serving as President at Shaw University, I hosted my own radio show, "Shaw's Universe." Recently, I moderated a panel on "Revitalizing Integrity, Democracy, and Justice" for the Westchester's Black Women's Political Caucus at the 46th Annual Black, Puerto Rican, Hispanic and Asian Legislative Caucus of New York, February 16-18, 2018, Albany, NY.
Frequently requested topics:
Zhongxing The "Irma McClaurin Black Feminist Archive": Making Black Women's Lives Matter
Pilar do Sul Sexual Harassment: Then & Now
(RE)Visioning a World Without Violence Against Women
I Write to Save My Life…And You? (Lecture or Workshop)
Black Feminism: Why We Need It Today
Empowering Women to Lead Differently
Laying Claim to our Spirit, Laying claim to "the habit of surviving," and laying claim to our VOICES
Poetry Reading (Dr. McClaurin's poetry is published in over 16 magazines & anthologies)
Why Anthropology? A Legacy of Blacks in A Colonial Discipline
Technology, Civil Rights, and Inequality
Watch me in action!
Dr. McClaurin discussed sexual harassment and the Irma McClaurin Black Feminist Archive with Sandra Bookman, host of abc7 "Here and Now," and Sharon Nelson, founder of CREW (Civically Re-Engaged Women).

Poem for My Black Feminist Sisters:

Dr. McClaurin responds to "Why Anthropology

Hear me break down politics and despair, racism, black feminism, and everything else under the sun on the Janus Adams show.
Want more? Book me NOW for keynotes, lectures, radio-TV commentator, scholars in residence programs, and workshops (leadership, poetry, diversity, writing).
I'm also a Fulbright Specialist and able to provide technical assistance, workshops, training, and lectures in countries listed below for 2-6 weeks. Contact the U.S. Embassy, and find out how we can work together to change the world. https://fulbrightspecialist.worldlearning.org/eligibility-host-institutions/
Dr. McClaurin (below) as MLK Keynote for Skanner Foundation, Portland, OR on conference theme: "Civil Rights in the Digital Age"